HOW DOES MIGRATION CHANGE US?
CROSSROADS STORIES: East L.A.
East L.A. has long been home to distinct music cultures that connect the local to the global. Young people growing up in the area have remixed the traditional music of their parents and grandparents with the rhythms and sounds of their U.S. upbringings. This has given rise to new genres, subcultures, and styles, including brown-eyed soul, Eastside punk, pachuco boogie, and East L.A. taiko.
Talkback question Share Your Story What kinds of music do you listen to? Do you know where they come from? How do you think migration may have contributed to them? Share your migration stories using #WorldOnTheMove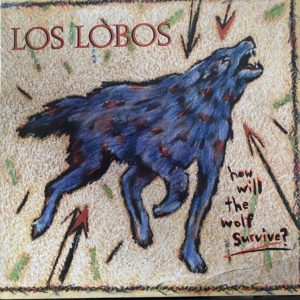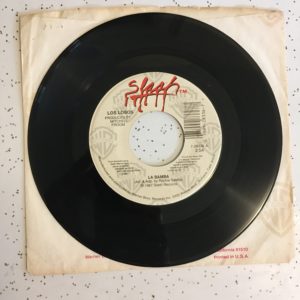 East L.A. band Los Lobos's 1987 recording of the traditional folk song "La Bamba" was the first Spanish-language song to top the Billboard music chart. Their album How Will the Wolf Survive? included songs addressing immigration and cultural preservation.
Produced by T-Bone Burnett and Steve Berlin for Slash/Warner Bros. Cover illustration by Elizabeth Brady. Art direction/design by Kav Deluxe.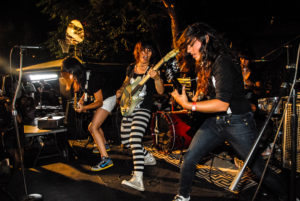 The Sirens are an all-Latina punk/rock band whose members are from East L.A. and nearby Highland Park, 2010. Photo by Rafael Cardenas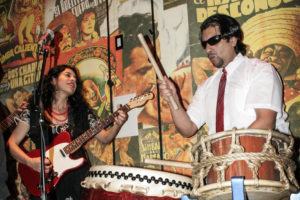 Maceo Hernández (right) performs with Lysa Flores, 2010. He plays taiko, a Japanese drumming style that he learned and teaches at a Buddhist temple. Photo by Rafael Cardenas
East L.A. Chicano (Mexican American) punk band The Brat, formed in 1979, influenced the styles and sounds of L.A.'s famous punk scene. The band was featured on the February 1982 cover of Lowrider magazine. Photo by Salvador Casillas. Magazine art direction by Roland Medley. Editor and publisher Sonny Madrid.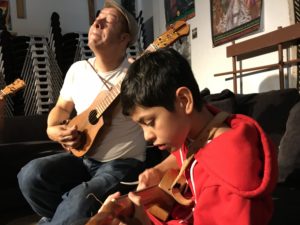 Latinx artists and activists, such as Ramón Gutiérrez Hernández and Sandino González Flores, are reinterpreting son jarocho, a traditional style of music with Afro-Mexican roots, 2018. Photo by Quetzal Flores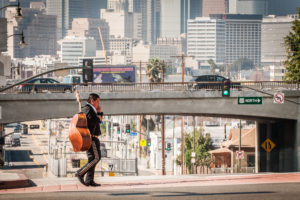 A mariachi musician crosses the street, 2010. Photo by Rafael Cardenas
Crossroads Stories – Beringia
The Inuit, Aleut, and Athabascan-speaking Indigenous peoples have inhabited Alaska for thousands of years. Russian settlers arrived in the 1700s and claimed the territory for the Russian Empire. The U.S. purchased Alaska from Russia in 1867. In the late 1800s, people began moving into the area to extract natural resources, including minerals, timber, and fish. In 1971, the U.S. government passed legislation to compensate Alaska Natives for lands and mineral resources taken from them.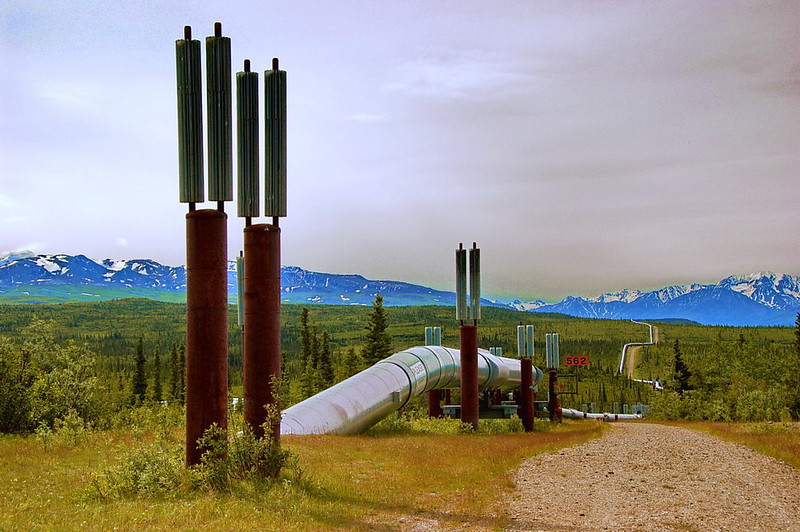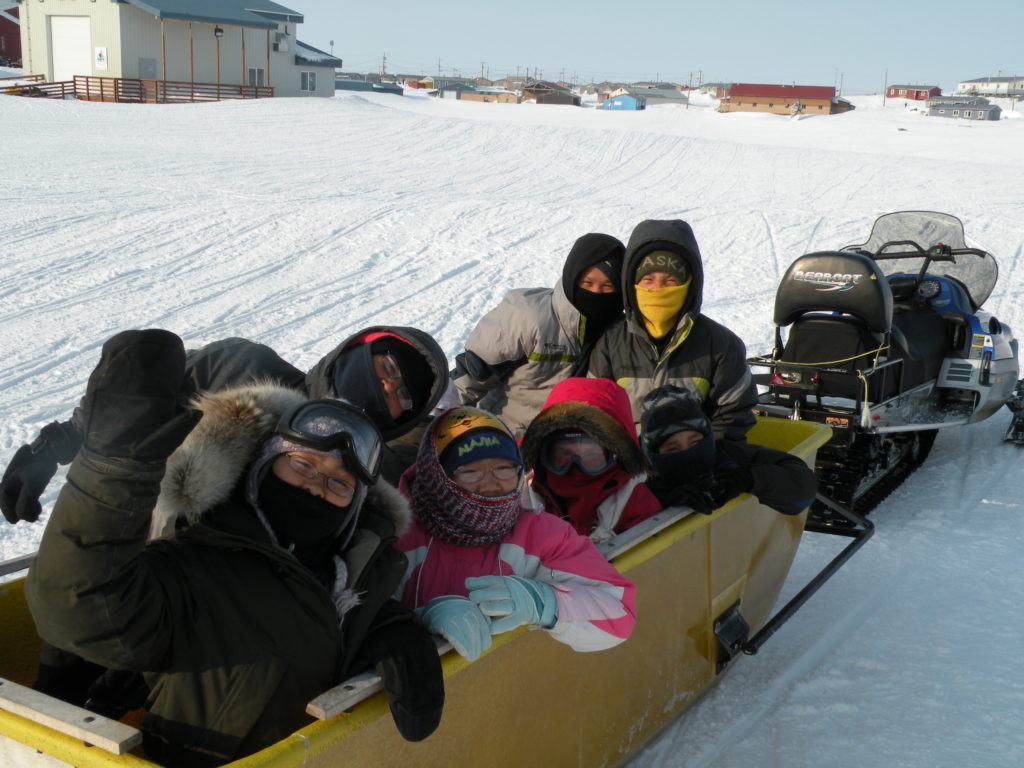 Chupik kids in Chevak, Alaska, prepare for a ride on a sled pulled by a snow machine (instead of dogs), 2009. Snow machines have become integral to life in Alaskan villages. Photo by Cynthia Bybee
When the ancestors of today's Alaska Natives first settled in Beringia, it was a continuous landmass that connected the now separate continents of Asia and North America. The area shaded in light brown shows the land as it was around 14,000 years ago, during the last Ice Age, when sea levels were lower. Map source: https://www.nps.gov/bela/learn/historyculture/the-bering-land-bridge-theory.htm