Crossroads Stories – Central Africa
Central Africa remains a busy crossroads of human migration today. Refugees fleeing violence in the Central African Republic and Burundi have moved to neighboring countries. Some Central African migrants cross the Atlantic to Mexico on their way to the U.S. Others head northeast to the Persian Gulf or north to the Trans-Sahara Highway and across the Mediterranean to Europe.
Talkback question How might people leaving Central Africa today change the places they resettle?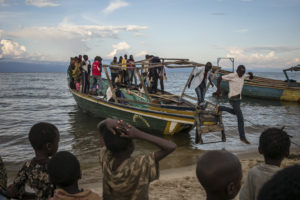 Burundian refugees fleeing political violence arrive in Mboko, Democratic Republic of the Congo, 2015. Photo courtesy of United Nations High Commissioner for Refugees © UNHCR/Federico Scoppa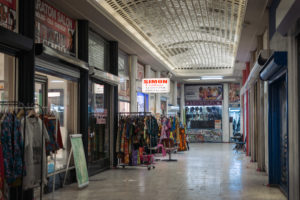 Matongé, a Congolese neighborhood in Brussels, Belgium, has a lively market and restaurants serving a variety of African cuisine, 2017. Photo by Benas Gerdziunas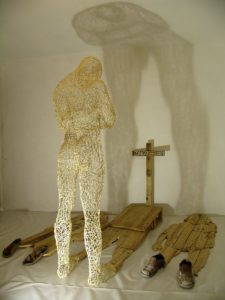 Shadow of a Shadow, 2005, by Congolese artist Aimé Mpane depicts the traumatic history of Belgian rule. A transparent figure, made of matchsticks, looms over silhouettes of those who have fallen due to colonial rule. Photo by Aimé Mpane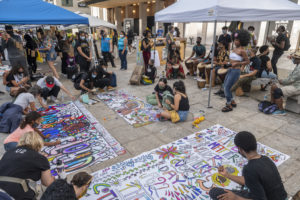 People create murals in Black Lives Matter Plaza in Washington, D.C., on Juneteenth, 2021. The national holiday commemorates the end of slavery in the U.S. Many of those freed were descended from people forced into slavery in Central Africa. Photo by Thor Morales/+Peace
Crossroads Story Mediterranean
The current surge in migration across the Mediterranean to Europe is having a huge impact on European politics. Europe's ability to cope with a large influx of asylum seekers is testing the unity of the European Union. Millions of people have applied for asylum in the European Union since 2015, dividing public opinion, and giving rise to strong pockets of anti-immigrant sentiment.
Talkback question How will Europe respond to its growing multiculturalism?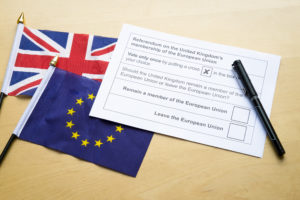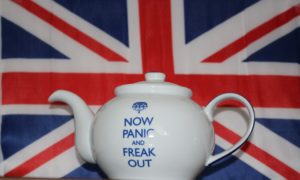 British resistance to welcoming migrants was a strong motivation for the "Leave" campaign supporting the United Kingdom's exit from the European Union. Photo courtesy of Frankieleon/Flickr (CC BY 2.0)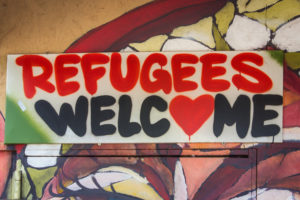 Photo courtesy of Frankieleon/Flickr (CC BY 2.0)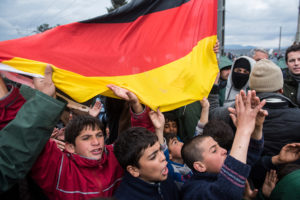 Boys in a refugee camp in Idomeni, Greece, hold a German flag representing their desired destination during protests in 2016 demanding that the European Union open its borders. Photo by Giannis Papanikos/Shutterstock.com