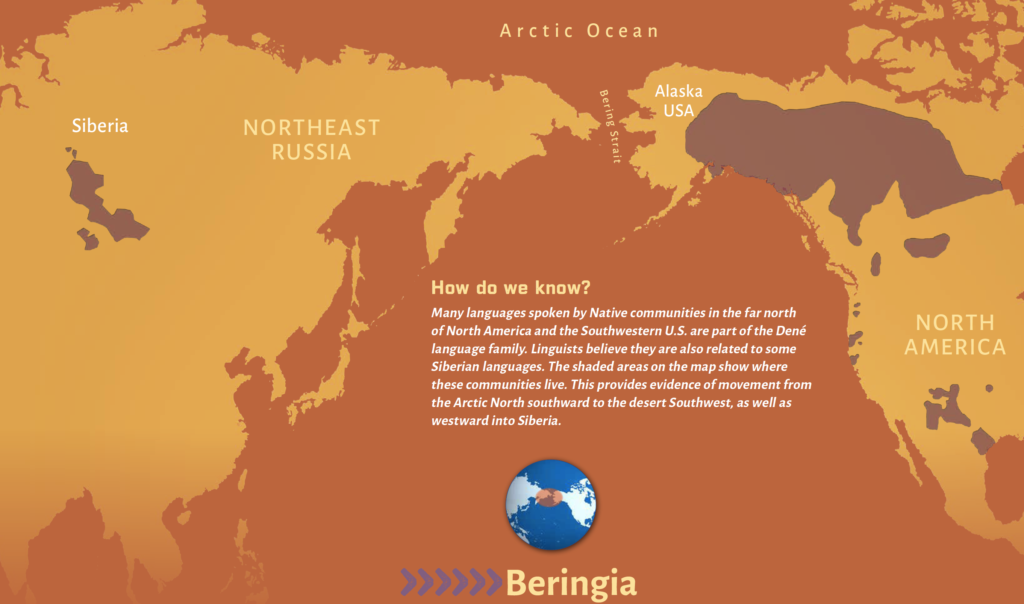 Crossroads Stories – Beringia
How do we know?
Many languages spoken by Native communities in the far north of North America and the Southwestern U.S. are part of the Dené language family. Linguists believe they are also related to some Siberian languages. The shaded areas on the map show where these communities live. This provides evidence of movement from the Arctic North southward to the desert Southwest, as well as westward into Siberia.
Beringia
Genetic research reveals that people crossed back and forth between Siberia and the American Arctic over thousands of years. Many people living in these areas today share genetic traits inherited from common ancestors. The Diné (Navajo) and Apache peoples are related to the Athabascan people of the Far North.
TOP LEFT: An Iñupiaq man kayaks off the coast of Nome, Alaska, ca. 1920.; Frank and Frances Carpenter Collection/Library of Congress
TOP CENTER: Iñupiat travel with a team of reindeer, 1922, Alaska. Frank and Frances Carpenter Collection/Library of Congress
TOP RIGHT: Darlene Orr (left), a Siberian Yupik Alaska Native, meets distant relatives from the Russian Far East village of Sireniki in 1988. Photo courtesy of Darlene Pungowiyi Orr
BOTTOM CENTER: The ruins of a structure made of whale bones and ribs in the abandoned Yupik village of Naukan in the far northeast corner of Russia. Photo by Andrei Stepanov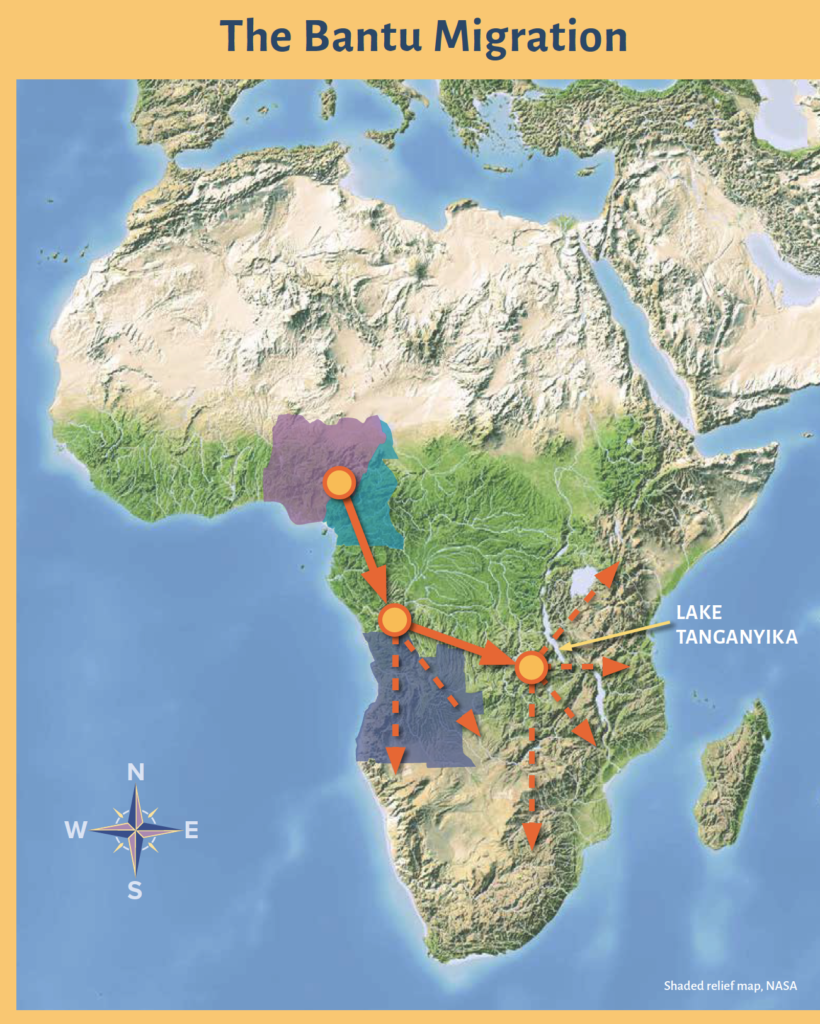 Central Africa
About 5,000 years ago, Bantu-speaking people from West Africa (near present-day Nigeria and Cameroon) moved south and east to settle in Central Africa. Linguistic analysis shows that they moved south along the Atlantic Coast, reaching the northern edge of present-day Angola. Then they traveled east towards Lake Tanganyika before heading further south and east.

Yaoundé, the capital of Cameroon, Central Africa. Photo by Homo Cosmicos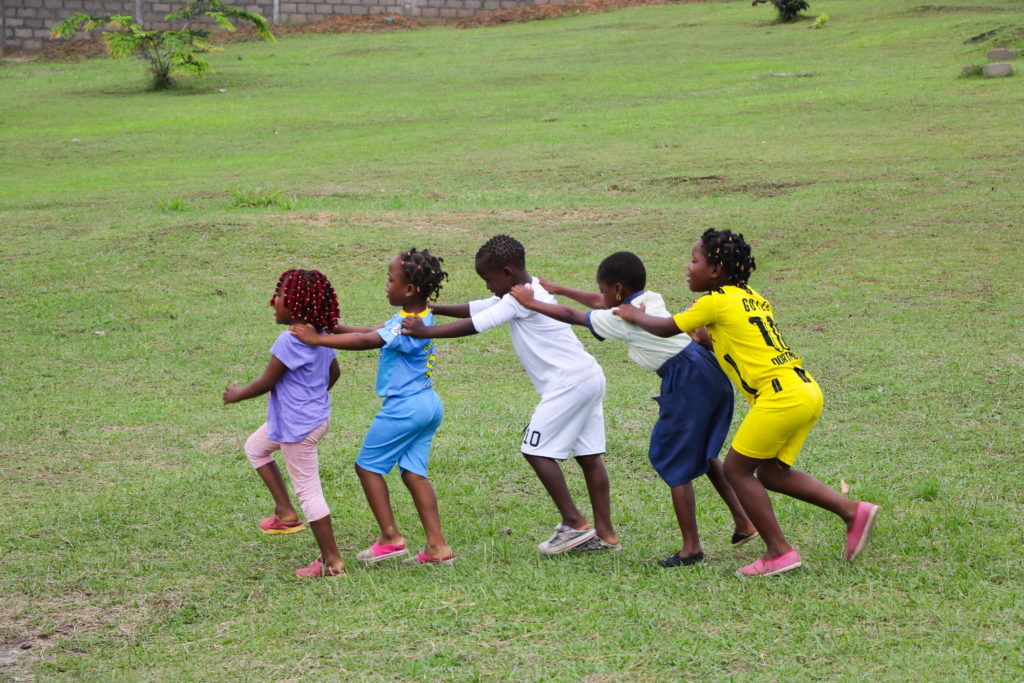 Girls play in their school garden in Libreville, Gabon, Central Africa, 2017. Photo by Rusky/Shutterstock.com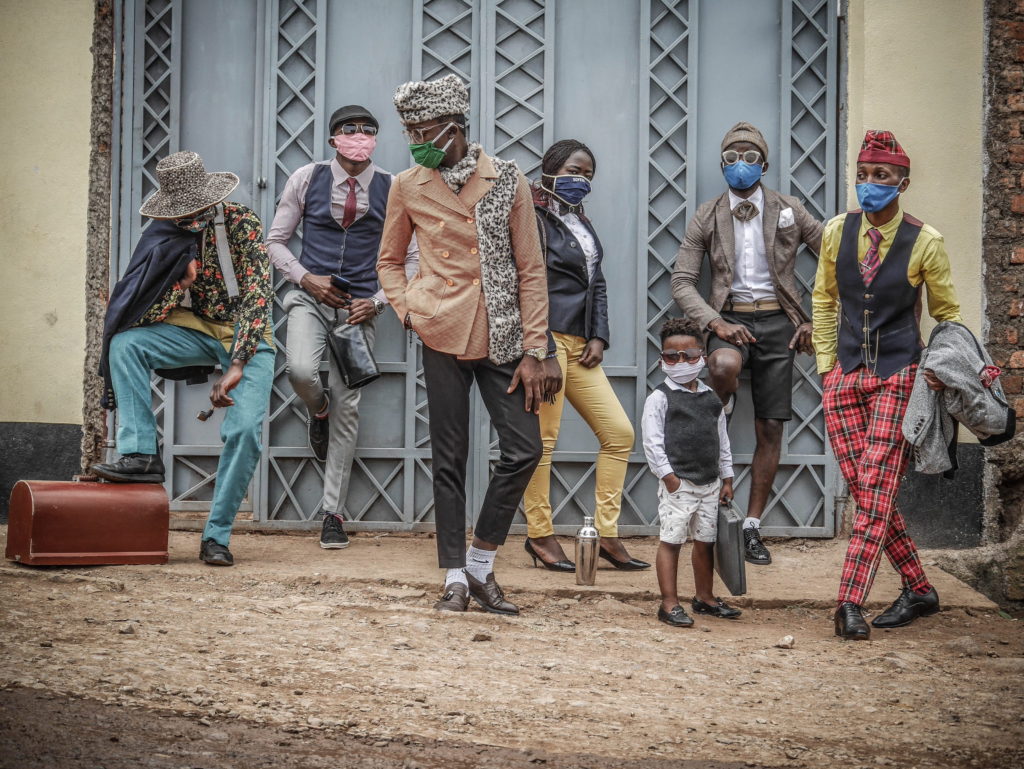 Young fashionistas show off their style in Bukavu, Democratic Republic of the Congo, during the COVID-19 pandemic, November 2020. Photo by Raissa Karama Rwizibuka for Fondation Carmignac