How Does Migration Change Us?
Religion and Migration
How does migration affect religion? Migration and religion are connected in many ways.
Throughout history, people have moved to seek religious freedom.
Enslaved people brought their religious beliefs and traditions to new places, often blending them with other traditions.
Territorial conquests have imposed new religions on people or forced them to flee from persecution.
Every year, millions of people around the world embark on religious pilgrimages, seeking solace, healing, and community.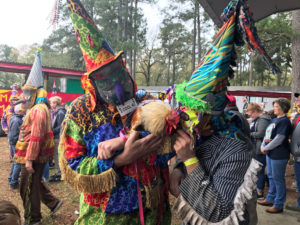 Mardi Gras in Cajun Country, Tee Mamou, Louisiana. Photo by Natalie Maynor
Seeking Religious Freedom
In the 1630s, a small group of French Catholics settled in what is now eastern Canada. They called the area L'Acadie (the idyllic place) and became known as Acadians. As British Protestants occupied the territory in the 1700s, they forced many Acadians out. Some eventually returned to eastern Canada, while others made their way to what is now Louisiana, where they established "Cajun" culture.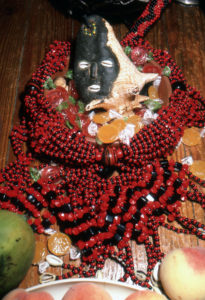 In the Santería religion, every ceremony begins and ends with Elegguá, the guardian of the crossroads. He rules the intersections where humans must make fateful choices, and he governs the unexpected, whether good or bad. Photo by David H. Brow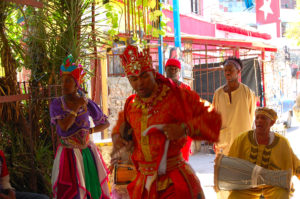 A Santería ceremony in Havana, Cuba Photo by Bernardo Capellini/Creative Commons
The Way of the Saints
Between 1780 and 1886, nearly 500,000 Yoruba people from what is now Togo, Benin, and Nigeria in West Africa were forced into slavery and taken to Cuba. They brought their beliefs and spiritual practices with them. They blended these traditions with Catholic ideas and images, developing a new religion called Santería—Spanish for "The Way of the Saints."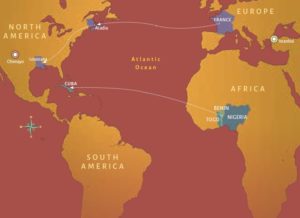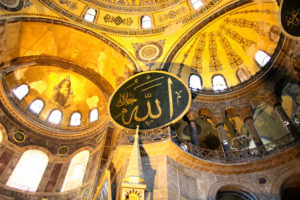 Inside Hagia Sophia, an Arabic inscription reading "Allah" hangs next to a painting of the Virgin Mary and Child. Photo by Rabe/Wikimedia Commons/CC BY-SA 4.0
From Church to Mosque
Hagia Sophia was originally built as an Orthodox church in Constantinople (today Istanbul, Turkey), which was then the capital of the Byzantine Empire. When the Ottoman Empire conquered the city in 1453, the church was converted into a mosque. It became a museum in 1935, reflecting Turkey's secular identity. In 2020, it was converted back into a mosque to reflect the country's shift toward a more Islamic identity.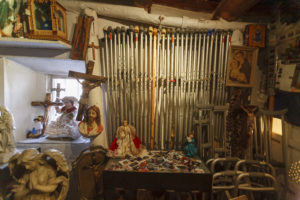 Crutches of the healed hang in the Sanctuario de Chimayo in Chimayo, New Mexico Thursday Feb 14. 2008. Tens of thousands each year make a pilgrimage to the Sanctuario because they believe the dirt has healing powers, a myth according to the parish priest. Photo by Michael Stravato
Pilgrimage
For thousands of years, pilgrims have made trips to special places in religious traditions including Buddhism, Christianity, Hinduism, Islam, and Judaism. Many pilgrims have sought healing from diseases or physical ailments.
Talkback question Share Your Story
Do you or your family practice any religion or faith? Where do you think these traditions come from? Share your migration stories using #WorldOnTheMove