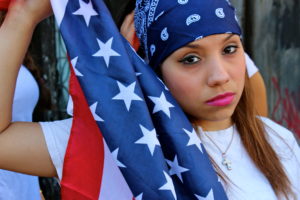 Karen Vigo takes part in a street performance in the South Bronx in 2014 with the group Girl Be Heard, celebrating the voices of young women. Photo by Ashley Marinaccio
WHERE DO WE COME FROM? THIS QUESTION HAS MANY INTERPRETATIONS.
Is it where we were born?
Where we grew up?
Where our parents or grandparents are from?
We all share common ancestors if you go back in history far enough. But that doesn't mean that we all share the same journeys.
Some communities have lived continuously in the same area for thousands of years. Their traditional stories describe their ancestors' origins in these places.
Other people live in places where they or their ancestors have arrived more recently.
Despite these differences, how do we protect the rights of everyone to belong in the places they consider home?
Talkback Question: Where is home for you?
Home means different things to different people. Where is home for you? Is it where you were born? Where you grew up? Where you live now?
Share your migration stories using #WorldOnTheMove