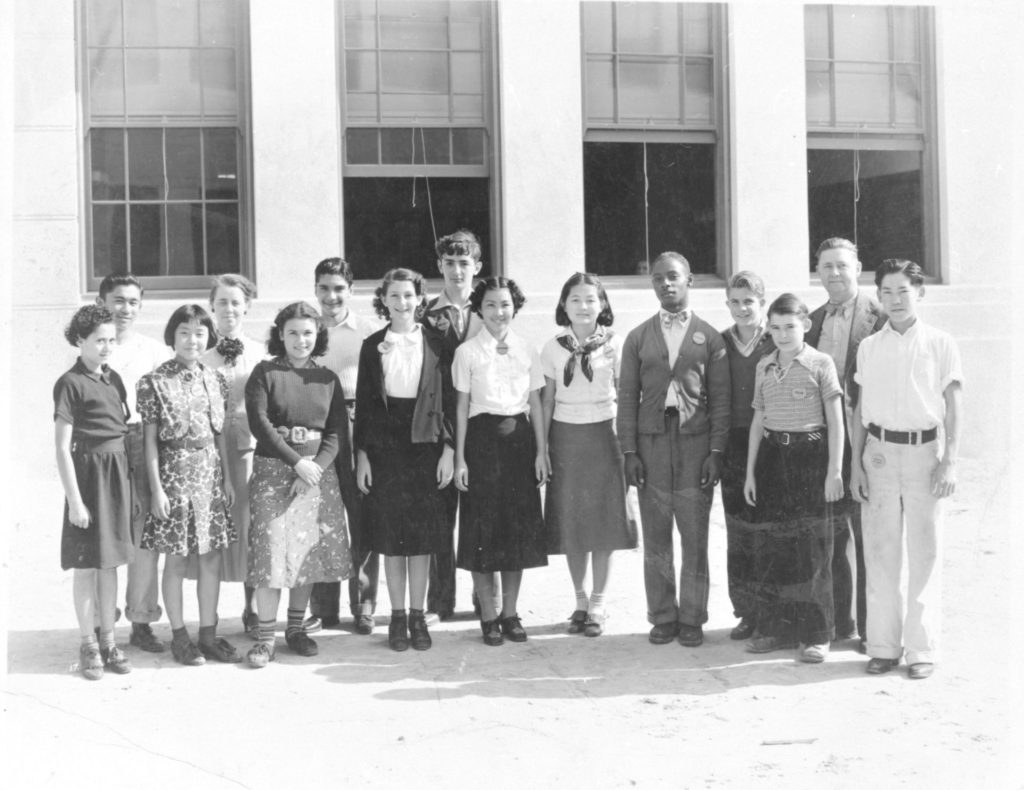 Hollenbeck Junior High School student government officers in East L.A., 1938; Japanese American National Museum (Gift of Elma Takahashi, 2001.208.2)
Crossroads Stories – East L.A.
By the mid-1900s, East L.A. was home to people from all over the world. Many settled in the area due to housing restrictions in other parts of the city that excluded people based on their race or religion. New arrivals built their own institutions in the neighborhood, including places of worship, dance halls, language schools, cultural clubs, mutual aid societies, hospitals, and cemeteries.
LEFT: Evergreen Cemetery in East L.A. is the city's oldest nondenominational burial site. Photo by Li Wei Yang
CENTER: Community members dedicate a memorial wall inscribed in Chinese, English, and Spanish to commemorate the reburial of the remains, 2010. Photo by Eugene Moy
RIGHT: Chinese Americans gather annually at the cemetery to honor their ancestors by cleaning graves and making symbolic offerings. Photo by Mary Uyematsu Kao
Respecting the Ancestors
In 2005, a construction crew digging next to Evergreen Cemetery in East L.A. disturbed and unearthed 174 graves. Community memory, historical documents, and archaeological findings confirmed that the graves belonged to people who had been excluded from the cemetery due to poverty or race. Many were Chinese from the late 1800s.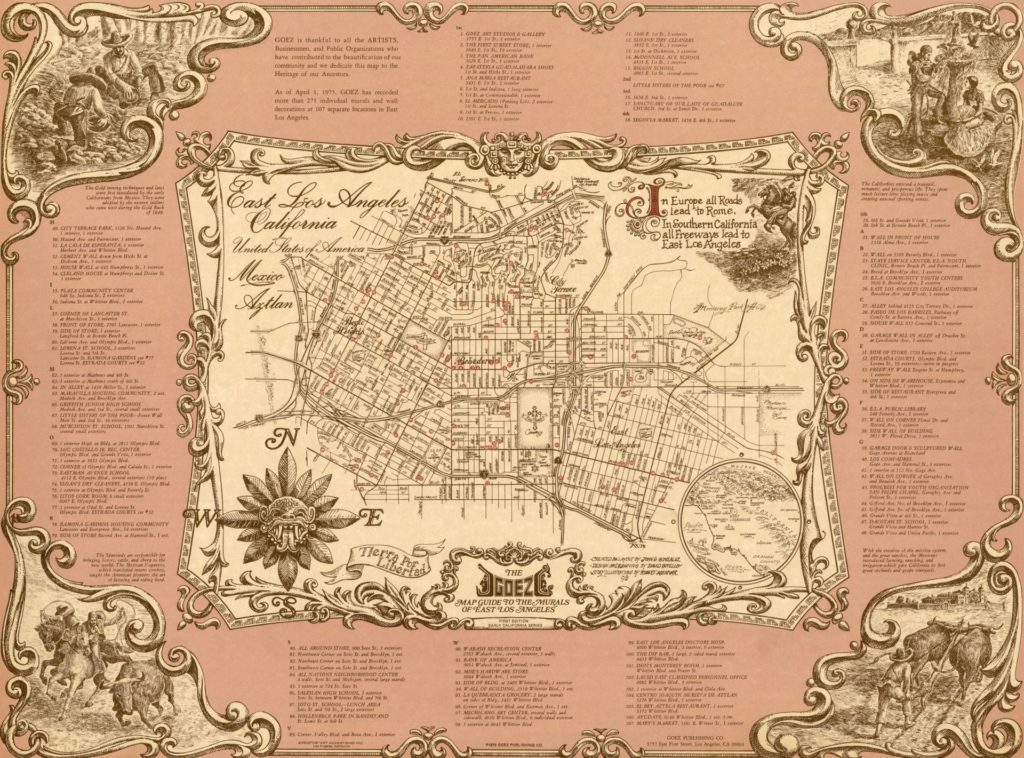 In 1970, Johnny D. González established The East Los Angeles School of Mexican American Fine Arts (TELASOMAFA), a mural and public arts apprenticeship school. The Goez Map Guide to the Murals of East Los Angeles (detail shown below) highlighted over 200 examples of local community art in 1975. ©️ 1975, Don Juan/Johnny D. González and David Botello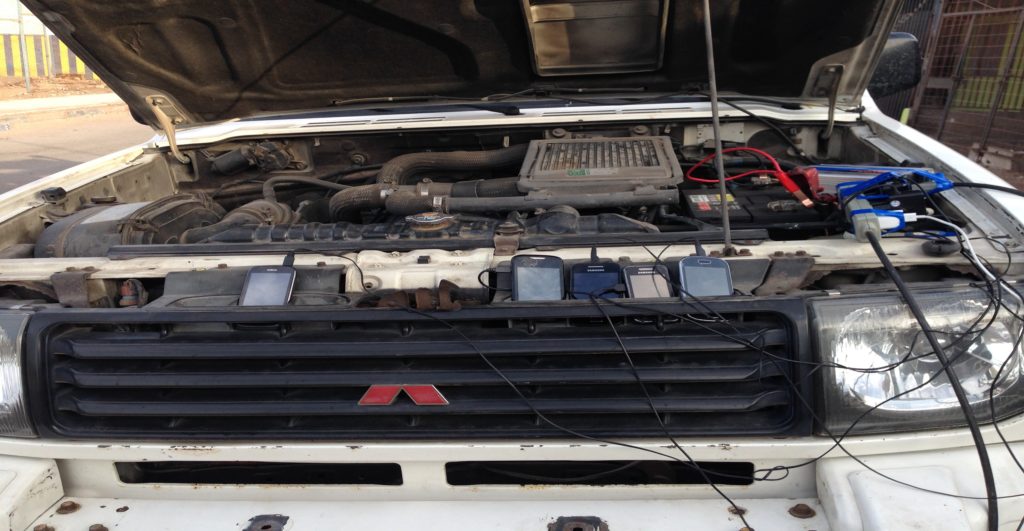 Cell phones charging on a car battery. Photo by Nell Haynes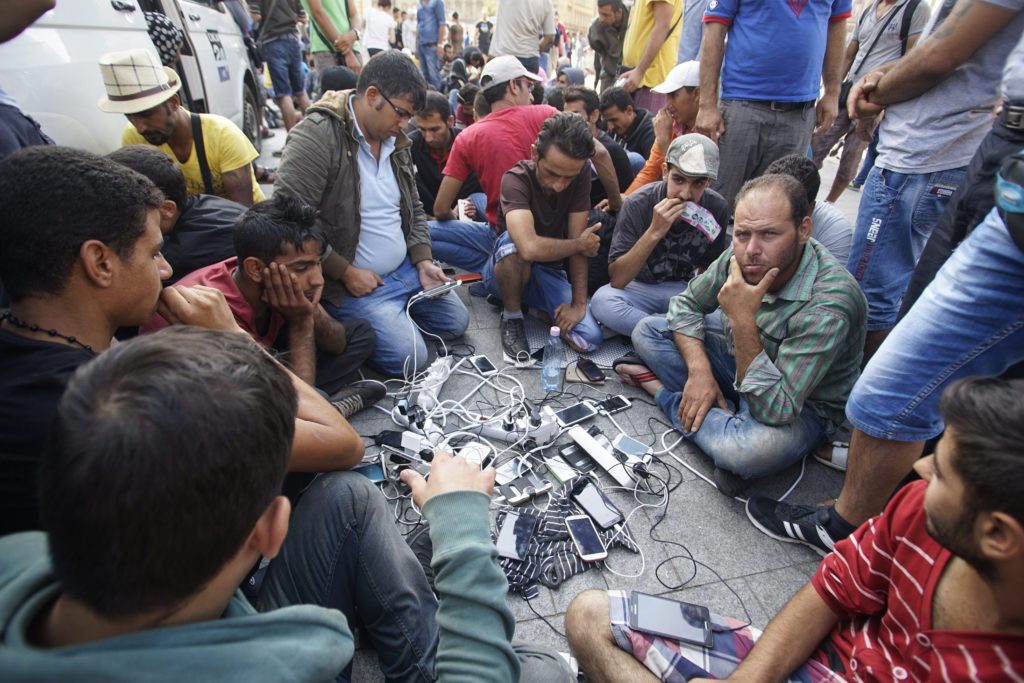 Refugees in transit charge their cell phones outside a train station in Budapest, Hungary, 2015. The city is a common transit point for migrants moving from Southwestern Asia to Central Europe. Photo by Zoltan Balogh/MTI via AP
Crossroads Stories – Mediterranean
Today, most adult migrants crossing the Mediterranean carry smartphones. For many people on the move, these devices are lifelines, as important as food or water. They provide language translation, mobile money, and maps to guide people on their way. They also store family photos and serve as a reminder of people and places left behind.